This is not a popular opinion. When Batman v Superman: Dawn of Justice opened in theaters, it wasn't well-received. For those who've been entertained by the Marvel franchise, I can see why. Sort of. My interpretation is that BvS (and Man of Steel) was too cinematic and not enough, well, just, entertainment. Anything that attempts to do more than elicit gawkery and laughs is too complicated. Anything that requires the audience to actively engage with the film is too much effort. Viewers don't want to think while they watch. They just want to… watch. Brains turned off. And, of course, this shitting got piled onto the director, Zack Snyder. It's too bad, really, because BvS, like Man of Steel, is beautiful, even for a comic book movie (and better than most, if not all, Marvel films). And I cannot wait for the Snyder Cut of Justice League.
If critics are to be believed, there's much to bemoan about Snyder's BvS. But the gnashing about the film seems centered around a preset conception of what a superhero film "should look like." (Let's ignore, for a moment, the tendency of studios wrecking potentially great films.) There's safety for both the creator and their audience to follow a set script of film making. BvS, like Man of Steel, was a creative risk that when compared to other non-Snyder-made comic book movies was likely to get a lukewarm reception. It's different. People don't like it when things are different. There's comfort in knowing what to expect, even if you don't really know what to expect. This is a script that the drab Marvel movies do so well.
But 'nuf about movies. (Except, I really miss going to the theater.)
---
Paint Me in a Fever Pitch
I haven't hit an obsessive fever pitch the way Samantha has with cross-stitching, but I totally get her sentiment about doing something that you just purely enjoy. When I picked up gouache during my two-week time off in June/July, I wasn't sure I'd even like to paint. I've dabbled with watercolor, scraped around with colored pencils, and whatnot so I didn't think painting with gouache would end up being… so… just so damn peaceful. (By the way, Samantha has some kickass cross-stitching.)
I'm now at 22 out of 30 birds and I've gotten nice comments via Instagram stories, where I've been posting them as well as questions. What are my plans with the 30 bird paintings? When I started this exercise I didn't really have a plan. I just wanted to paint something and practice using gouache. Now that the question is out there, I'm leaning towards selling them, singularly and as little bundle packs. Specific details still to come but I want to keep it simple. I like that others are enjoying my paintings so I want to keep that as my main focus.
Plus: I'm already seeing this project as "volumes" as I'm already thinking about the next batch of 30 birds I want to paint. So look out. Volume 1: Birds coming soon. 😉
Here are some recent favorites of mine:
---
For Your Consideration
California, hell, the West Coast is up in flames. First - to all my peeps in NoCal and the immediate vicinity of these fires: Stay safe! While looking at the California fires map to see where the burning was, I also looked at an air quality map to see the extent of the fires. I read that people all the way in Michigan were being affected with ash particles and other fire-related pollutants from the coast. The smoke map may have shifted when you look at it, but it's (horrifyingly) cool to see the secondary and even tertiary impact these wildfires are having. (even this screenshot looks different from when I first looked at the map 5 hours ago)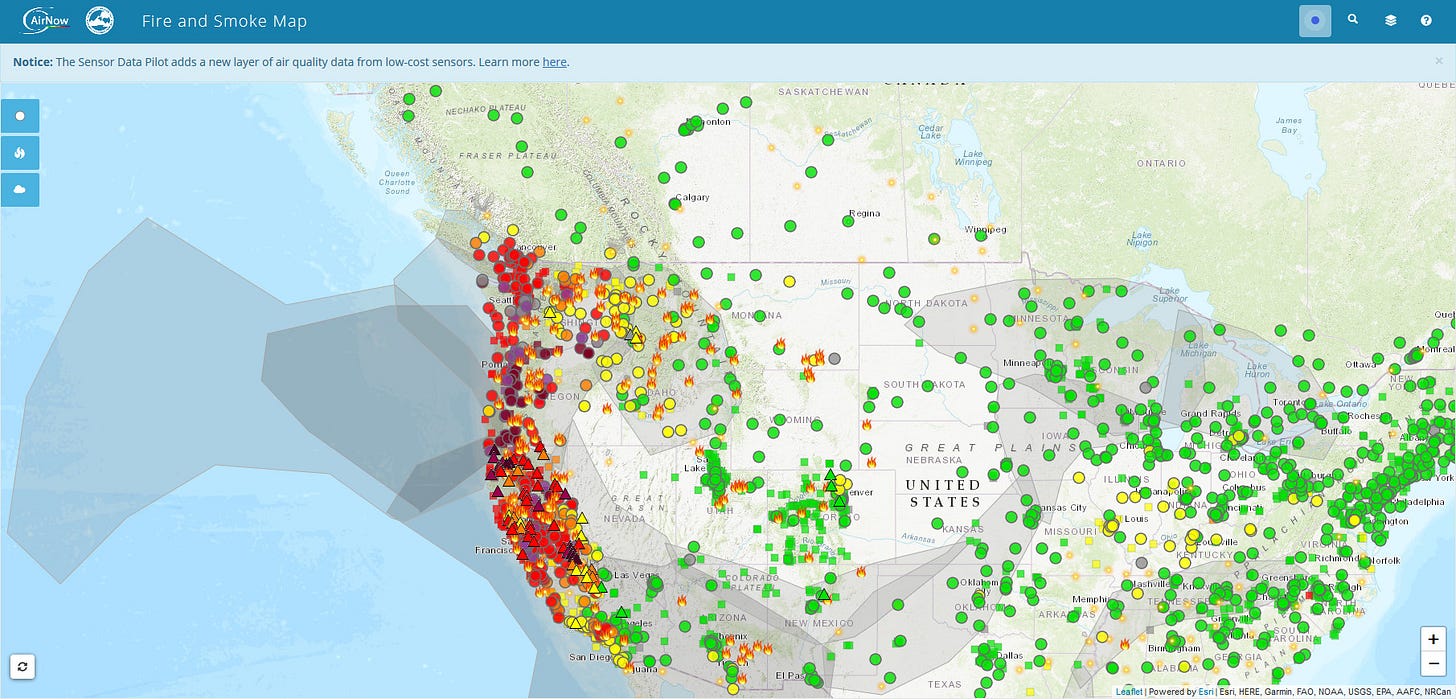 Who knew Schitt's Creek would be so funny. (Though, tbh, I think it's only funny because Eugene Levy and Catherine O'Hara are in it. And while looking something up, I learned that the actor and actress who play David and Twylah are Eugene's son and daughter. 🤯) I devoured a few books recently, starting with Paul Theroux's The Old Patagonia Express. I might have figured out why I enjoy his travelogues more than others, and he even states it in his book. Travel writers write about their destinations—and rightly so. But more often than not, they don't write about the travel to the destination which, imho, adds to the overall experience of reading the travelogue. "But you can't write about your plane ride," you might say. True. That's boring as hell but did you have to fly if you didn't really need to? It seems part of the adventure is in purposefully putting in adventure potential the way Theroux has done. On top of that, the traveled man pays homage and references passages of books that he's read. In this instance, it was horror playing out. As soon as I finished Patagonia, I picked up The Narrative of Arthur Gordon Pym of Nantucket, Poe novella that inspired H.P. Lovecraft. After sleuthing I also read The King in Yellow by Robert W. Chambers—another Lovecraft muse. Throughout my reading, I couldn't stop my brain from creating images of a true-life-inspired horror story that I've wanted to work on.
---
NYC Wildlife
Pizza Rat is King.
'Til next time 🍕
---
P.S. Are you or someone you know looking for a copywriter and content specialist? Refer them to me! I'm taking clients who need help with marketing and brand voice.